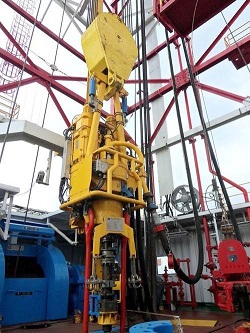 The top-drive drilling system
update:2015-03-18 15:52 Click:times
brand

model

describe

The top-drive drilling system has changed the traditional mode of rotary drilling, but uses the top-drive AC variable frequency control system with sound operation and high reliability. The main top drive system is an AC variable frequency
introduce
The top-
drive
rig
123.net' target='_blank'>
drilling
system has changed the traditional mode of rotary
rig
123.net' target='_blank'>
drilling
, but uses the top-
drive
AC variable frequency control system with sound operation and high reliability.
The main top drive system is an AC variable frequency system composed of two independent converters driving two 400Hp AC variable frequency
motor
s respectively; they can jointly drive (master/slave control, SIMOLINK fiber optic communication ) or work separately.
The top-drive
MCC
cabinet is responsible for power supply of other auxiliary equipments of the top drive, including main motor fan, drive fan, hydraulic pump motor, cooling motor, air conditioning and lights in the electrical control room.
PLC
is connected with control stations and drive systems through PROFIBUS-DP bus, with substations in the main body through optical fibers, and with other substations through shielded twisted pair.
上一篇:没有了
more