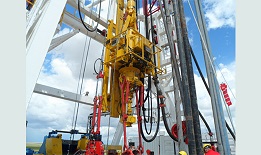 450T top drive control system
update£º2015-03-20 00:21 Click£ºtimes
brand

model

describe

Top drive device adopts ac motor, ac frequency conversion technology. Top drive device adopts overloading thrust bearing and special structure design, the longitudinal vibration of the drill string. Pipe processing device of tilt mechanism
introduce
Top drive device adopts ac motor, ac frequency conversion technology.
Top drive device adopts overloading thrust bearing and special structure design, the longitudinal vibration of the drill string.
Pipe processing device of tilt mechanism can forward, backward and rotate 360 degrees, is conducive to grab drill pipe, and closer to the rotary table surface to make the spindle rig123.net' target='_blank'>drilling, the drill string used fully.
Large range of processing equipment of back-ups tightening, not with the bop control agencies in rings.
To drill down if encounter complex interval, top drive can receive at any height to drill for drilling fluid circulation, reaming.
Can be infinitely variable speed and shackle, torque control, can satisfy the precision of the drilling engineering requirements.
Has the top hydraulic cocks, can be any height downhole blowout preventer (IBOP) closed and open, enhancing the safety well control.
Top drive device running balance, with multiple protection, safe and reliable in work.
Can according to need other optional diesel generator set, power supply for the top drive device
ÉÏһƪ£ºThe top-drive drilling system
ÏÂһƪ£ºXJ250 workover rig
more