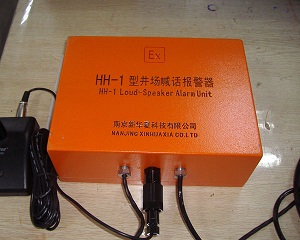 HH-type 1 wellsite propaganda report to the police
update:2015-03-20 23:31 Click:times
brand

model

describe

1. An overview of the 1.1 features HH - type 1 wellsite propaganda alarm by the host, the microphone and high-power speaker of three parts. With the installation and maintenance, and easy to use and large output power, clear voice, apply t
introduce
1. An overview of the
1.1 features
HH - type 1 wellsite propaganda alarm by the host, the microphone and high-power speaker of three parts.
With the installation and maintenance, and easy to use and large output power, clear voice, apply to the space is large, noisy workplace environment.
Has two alarm function, this system can be used in well site when an accident occurs, to sound an alarm in time and to notify all persons present, is advantageous for the related personnel according to the accidents emergency response.
1.2 use the environment
30 ℃ ambient temperature: - - - - + 50 ℃
A humidity: + 10 ℅ -- + 90 ℅
1. The main technical parameters
2.1 explosion-proof marks: Exd Ⅱ BT4
Explosion-proof grade 2.2: IP65
2.3 the power supply voltage: AC220V plus or minus 10 ℅, 50 hz
2.4 the machine power: 60 w
2.5 the output power: 40 w
2.6 appearance size: 215 * 290 * 290
2.7 installation method: wall-mountable or a type
2. The method of use
3.1 propaganda way: connect the microphone and the host in the middle of the plug and rear band switch and propaganda (middle).
The size of the volume can be adjusted on the host panel volume switch.
3.2 alarm way: this system is divided into two levels of alarm, a. H2S alarm;
2. The fire alarm.
When using the function directly to the switch in the corresponding location.
3. The fault and maintenance
By the system failure, shall be immediately disconnected host power supply, please contact us, in order to timely maintenance.
上一篇:TD-TALK hands-free intercom communications systems
下一篇:没有了
more