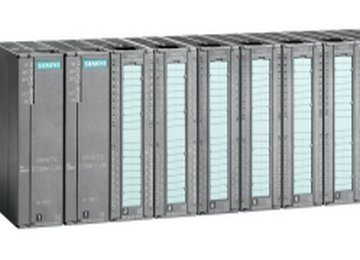 ET 200M
update£º2015-03-21 21:28 Click£ºtimes
brand

model

describe

Description SIMATIC ET 200M is the modular I/O station for the control cabinet with high density-channel applications. Connection to PROFIBUS and PROFINET is achieved using interface modules optionally for PROFIBUS also using fiber optic c
introduce
Description
SIMATIC ET 200M is the modular I/O station for the control cabinet with high density-channel applications. Connection to PROFIBUS and PROFINET is achieved using interface modules – optionally for PROFIBUS also using fiber optic cables. The ET 200M can be used for standard as well as failsafe applications.Up to 12 multi-channel signal modules (e.g. 64 digital inputs) and function modules as well as S7-300 communications processors can be used as I/O modules – the interface to the process. ET 200M supports modules with expanded user data, e.g. HART modules with HART minor variables. In addition to proven connection techniques the ET 200M offers the insulation displacement method Fast Connect for easy wiring.
---
Area of application
The ET 200M is particularly suitable for user-specific and complex automation tasks. Applicable Ex analog input or output modules with HART optimize the ET 200M for use in process engineering. Applications that require a higher grade of availability can be realized in combination with redundant systems like S7-400H or S7-400F/FH.
---
Benefits
High density channel design (up to 64 channels per module)

Reduced wiring efforts

High plant availability
- Configuration in RUN
- Hot Swapping of modules
- Redundant design

Modular design

Use of S7-300 modules

Safety functions integrated

Integrated diagnostic function channel by channel

Certified for Ex-zone 2
---
Design and functions
The modular I/O system ET 200M comprises an Interface Module (2 IM in case of redundant design) and up to 12 I/O modules. There are no slot rules. Various types of I/O modules can be plugged in depending on the quantity framework of the master module.
The SIMATIC S7-300's simple construction using bus connectors makes the ET 200M flexible and service friendly:
The bus modules are swung onto the DIN rail, butted side to side and secured with lateral plug-in connectors. The modules can then be swung onto the bus modules and screwed into position establishing contact with the bus module connector. The connectors of unoccupied slots must be protected with backplane bus covers. A bus module cover is inserted into the side of the last bus module. The backplane bus has been integrated into the modules. The active bus modules permit changing of modules during operation (Hot Swapping). When the ET 200M is connected to PROFIBUS on an S7-400, the controller can be configured during normal operation (Configuration in RUN - CiR).
---
Technical data
Cables and connections

Screw connection,
spring-loaded connection and FastConnect
with permanent wiring

Degree of protection

IP20

Ambient temperature on vertical wall:

(preferred mounting position)

with horizontal assembly

0 to +60 °C

with other assembly

0 to +40 °C

Relative humidity

5 … 95%
(RH stress level 2 according to IEC 1131-2)

Atmospheric pressure

795 … 1080 hPa

Mechanical stress:

Vibrations

IEC 68, parts 2 - 6: 10 … 57 Hz
(constant amplitude 0.075 mm) 57 … 150 Hz (constant acceleration 1 g)

Shock

IIEC 68, parts 2 - 27half-sine, 15 g, 11 ms
ÉÏһƪ£º6ES7322-1HH00-0AA0
more