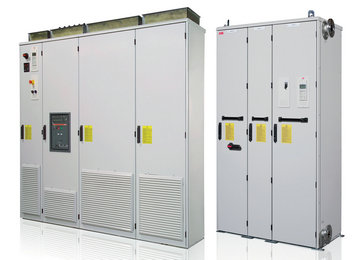 ACS800-104-0580-7+E205+V991, Code: 3ABD68685192-D
update£º2015-03-22 11:49 Click£ºtimes
brand

model

describe

Cabinet type low harmonic drive ACS800-37, to a maximum of 2700 kW Low harmonic simple solution ABB low harmonic drive provides low harmonic and a simple solution. The solution is embedded in the drive unit, without the need for additional
introduce
Cabinet type low harmonic
drive
ACS800-37, to a maximum of 2700 kW
Low harmonic simple solution
ABB
low harmonic drive provides low harmonic and a simple solution. The solution is embedded in the drive unit, without the need for additional external filtering equipment or complex
Multi pulse transformer.
Meet the most stringent standards
ACS800-37 is a cabinet type low harmonic drive. It is equipped with built-in renewable power supply unit and low harmonic line side filter. Through these measures, in the power transmission unit
The Internet produces very low harmonic (total harmonic current of not more than 5%). Even in the most weak power grid, but also far more than the standard IEEE519. ACS800-37 provides
The solution of a simple, compact electricity to meet the strict quality standard.
Better than the external solution
ACS800-37 does not require a dedicated multi pulse transformer, so the
cable
circuit is more simple, less occupied space. Harmonic elimination is better than 12 and more than 18 pulse variable
The pressure regulator is better, can handle the power supply voltage unbalance or other fault. External ACS800-37 filter without active or passive, is very simple
And compact. Another advantage of ACS800-37 is the power factor at run time is approximately equal to 1.
A wide range of characteristics
As the ACS800 type cabinet with other transmission, ACS800-37 provides a standard configuration widely to meet the needs of different applications. It has a built-in and wide features
Option. Intelligent module makes maintenance is very simple, and can realize the redundancy in a large power range.
The main standard features
- - compact design
- - IP21 protection grade
- - renewable power supply unit
- - built in low harmonic filter
- - EMC filter, second environment, the non restrictive sales, follow the standard EN 61800-3 (in size for the R6 is optional) (class C3)
The main switch - - with the aR fuse (in size for R6-R8i)
- - line side AC
contactor
(in size to R7i-R8i, in size for the R6 is optional)
- - can draw out the air circuit breaker (in size for nxR8i)
- - du/dt filter (as the standard for nxR8i in size)
- - for common mode filter
motor
protection (in size for R7i-nxR8i)
Circuit
board - - with coating.
The extended I/O - - programmable port
- - long life fan and capacitor
- - line side electrical isolation
- - the built-in I/O and field bus communication expansion module slot
- - with a startup wizard multi language control panel
ACS800-37 accessories
- - analog and digital I/O expansion module
Motor
protection - - ATEX certification
- - Braking chopper and resistance
- - tank heater
- - the user terminal block
- - du/dt filter (in size for R6-R8i)
Grounding fault detection - - floating grid
- - EMC filter, first environment, Limited sales, follow the standard EN 61800-3 (class C2)
- - field bus module
- - IP22, IP42, IP54 or IP54R protection grade
- - ship design
Output - - to the motor fan
- - pulse
encoder
interface module
Interrupt - - safe torque
- - jacking ejection wiring mode
- - 1 or 2 thermal
relay
- - 3, 5 or 8 Pt100 relay
- - stop 0 or 1 class
- - UL or CSA authentication design
ÉÏһƪ£º3AUA0000060667 ACS800-704-0640-7 FREQUENCY
ÏÂһƪ£ºABB brake chopper
more