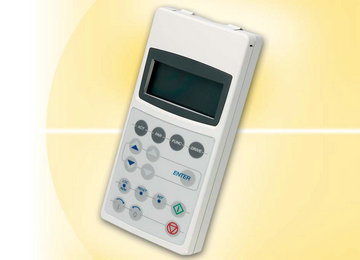 ABB inverter control panel
update£º2015-03-22 11:53 Click£ºtimes
brand

model

describe

ABB inverter control panel Control panel industrial drive product (+J400) offers a number of easy to understand Information. Many languages alphanumeric display (4 x 20 characters) - In text information support 14 languages. Startup Wizard
introduce
ABB
inverter
control panel
Control panel industrial
drive
product (+J400) offers a number of easy to understand
Information. Many languages alphanumeric display (4 x 20 characters) -
In text information support 14 languages.
Startup Wizard
Start the wizard Jane in the standard control procedure
The debugging process. Start the wizard by
Take the initiative to guide the user through a debugger
The. At the same time has a unique online help
Function.
Actual value display
The control panel can display the three actual independent value.
For example:
Speed -
motor
- frequency
- current
- torque
- power
- given
Fault memory
Fault memory with a built-in can
Related to save the last 64 faults
Interest, each fault record marked a so
Avoidance of occurrence time.
Parameter copy
Copy function can be all parameters
The transmission parameters from a transducer to copy
Shellfish to another, simplify system
Debugging.
Centralized control
A control panel can
31 sets of driving control.
Custom programming
Custom programming without the need for additional
Hardware or software.
Control panel mounting bracket (+J410 and +J413)
In order to use the screw is directly fixed on the door there is a control panel on the back of the screw hole
A control panel, installation kit removable control panel. The control panel two
Installation method:
RPMP-11 (+J410) is suitable for door installation.
RPMP-21 (+J413) is suitable for the cabinet, hanging installation
Optional
Control panel
Control panel control panel user friendly interface
- the DC bus voltage
- the output voltage
- the temperature of the radiator
Working hours
- kWh
ÉÏһƪ£ºRMIO-11 RMIO-12 board
ÏÂһƪ£ºFPBA-01 ABB inverter
more